ACTIVE TRANSPORTATION
If you don't count, it doesn't count. Bike and pedestrian count data is an essential tool to justify investments, capture seasonal trends, plan future pedestrian and cycling infrastructure, communicate with stakeholders and the public, and much more. From short-term, multi-site traffic studies to visible count Displays, we has developed a range of automatic counters that are reliable, discreet, and robust. These systems are designed exclusively for counting pedestrians and cyclists in the city. The data can be used to measure the success of an active transportation policy and our easy-to-use software enables the communication of those results to the public.
As numbers of commuters travelling on foot or by bike increase, it becomes essential to incorporate these active modes into transportation planning. Many local authorities are implementing policies that encourage active transportation; count data helps inform decision-making. Collecting reliable data is important to help justify investments, predict future demand and plan for future pedestrian and cycling infrastructure.
Eco-Visio
Analyse and share easily your count data
With Eco-Viso 5, your count data is accessible at any given moment and preferred data analyses are saved and automatically updated daily.
With Eco-Visio 5, your data analyses are presented in the form of a personalised dashboard. Data are visible at any given moment, saved in real time on your account.
Dashboards consist of a variety of interactive 'widgets' – dynamic data visualisation modules. Organise and personalise your dashboard as you wish with over a dozen widgets, including:
Tables with automatically-generated key figures
Interactive charts and graphs
Maps of counter location and business
Widgets are dynamic, allowing you to easily filter counting sites, time-periods, or parameters. Explore these widgets directly on your dashboard – data is automatically updated and waiting for you when you login.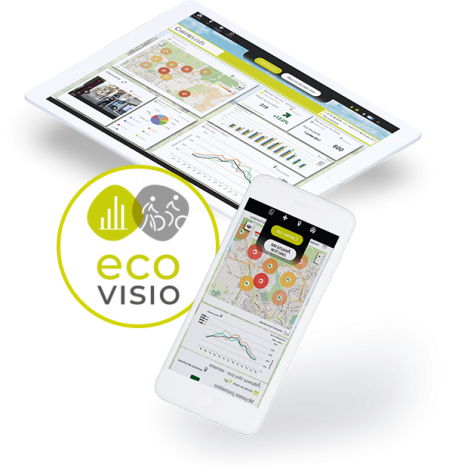 Communicate
Provide and communicate accurate pedestrian and cyclist data to key stakeholders.
Display the number of cyclists using major cycling facilities to the public using our on-site, real-time display.
Present cyclist frequency statistics on your website with site-specific information.
Increase Safety
Study dangerous crossings for pedestrians and cyclists.
Measure pedestrian and cyclist exposure and injury risk.
Use detection to indicate cyclists crossings to car drivers.
Plan
Establish before and after counts to help justify recent investments in infrastructure or pilot projects.
Understand usage patterns of cyclists and pedestrians as a function of time, infrastucture type, weather, and season.
Evaluate trends over time to help plan future investments in infrastructure.
Discover our range
dedicated to active transportation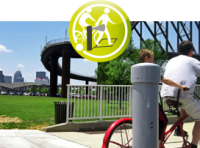 MULTI URBAN
Differentiates between pedestrians and cyclists
Permanent or semi-permanent
Highly robust
Range up to 6m
2 year battery life
Inform a data-driven approach
to active transportation planning
The Eco-DISPLAY Classic is a powerful tool to demonstrate the importance of cycling and walking. By communicating count data in real time to all street users, the Eco-DISPLAY Classic lets cyclists and pedestrians know they count.
The fully-customisable DISPLAY range allows you to present real-time cyclist and or pedestrian counts. Daily and cumulative year-to-date counts are displayed to engage the public.
You must install Adobe Flash to view this content.
Do you have a question? A project?
Feel free to contact us for any information related to a product