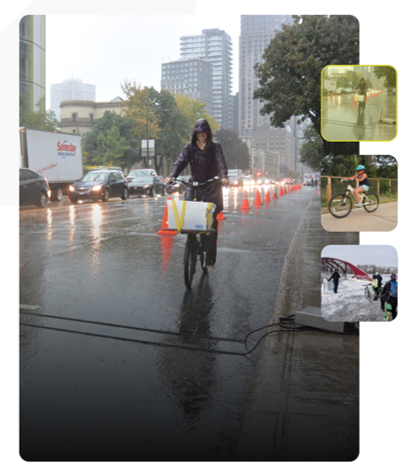 The Eco-Visio Weather Module allows you to overlay site-specific weather data on top of your count data, quickly capturing complex, indepth trends in bike and pedestrian count data.
System Overview
Our latest Eco-Visio Weather Module features a whole new look and seamlessly integrates into our Eco-Visio 5 data analysis platform. In this new version, a wider variety of weather data points are offered, and data is even more geographically specific! The weather module offers precise, counter-specific meteorological data, including a wide-variety of indicators, such as: Cloud cover, Snowfall, Temperature, Humidity, Rainfall, Wind speed, gusts & direction.
Weather indicators are available on an hourly basis, with the exception for snowfall, where the data represents total daily snowfall. Weather data is updated on a daily basis, and historical weather data is available immediately for all counters. From discreet trail counters on remote mountain trails to ZELT bike counters on downtown bike lanes, precise weather data is available for counters anywhere in the world. Weather data is specific to the location of each counter, and therefore varies across your counting sites!
Benefits :
Predict daily and monthly demand
Explain Anomalies in Count Data
Capture seasonal trends
Inform infrastructure maintenance practices

Using data to track and evaluate weather impacts
For example:
Using meteorological data to capture the impact of weather on winter cycling rates.

Warm temperatures and reduced precipitation have a strong positive impact on cycling demand.
Do you have a question? A project?
Feel free to contact us for any information related to a product