July 08, 2016 at 10:00 AM
AUCKLAND'S QUAY ST CYCLEWAY OPENS, AND THE FIRST ECO-TOTEM IN NEW-ZEALAND GOES LIVE!
Auckland Transport, Auckland Council and the New Zealand Transport Agency are creating a safer and easy wasy for people to travel by bike.
The Eco-Totem works in conjunction with ZELT loops which are installed on the bike lane or bike path adjacent to the Eco-Totem. The Eco-Totem is responsible for displaying the counts in real‐time with daily and cumulative year‐to‐date formats. It is an effective and prominent tool that can help make cyclists a visible part of the urban landscape.

The Quay Street Cycleway was offically opened on Friday 8th July 2016 by Prime Minister John Key and Transport Minister Simon Bridges. They were some of the many that rode past the Eco-Totem that day.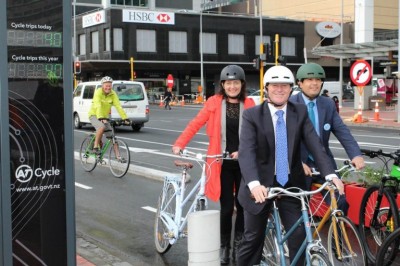 View the increasing cycle counts on the interactive map
For more coverage visit Newshub
Category: NZ Installs