Safety Awareness Solutions
Minimise accidents involving cyclists, from 'failing to look properly' by either the driver or rider
Eco Display CSS (Cycle Safety Sign) can improve road safety as a high visibility cycle activated display that flashes advanced warning to motorist of the presence of cyclists in vulnerable locations.
When activated by a passing cycle, the Eco Display CSS becomes alert to its surroundings.
With advanced user programmable features such as activate wait times the display can remain dormant until the cyclist is within a high risk area such as a narrow road or out of sight to motorists around a sharp bend.
Once active the Eco Display CSS becomes a powerful road safety tool, warning motorists of other, more vulnerable road users in the vicinity.
Inductive Powered LED Lighting is another form of providing advanced warning to motorists of cyclists riding near by or pedestrians crossing the road
Be Counted Technology can support you with advice, design and installation of the SAFE2CYCLE lights. These are intended to highlight the cycle lane space, reducing risk of collision. However they can also provide an indication of the traffic signal phasing. On approach to a traffic light, if cyclists are cycling within the green zone, the system is telling them the traffic lights will change to green by the time they get to the intersection. This gives cyclists the option of slowing down enough to prevent them from stopping and waiting at the lights. The aim here is to encourage cyclists not to take the chance of riding through a red, especially on 'T' intersections.
Prevent accidents involving vehicles and pedestrians at Zebra Crossings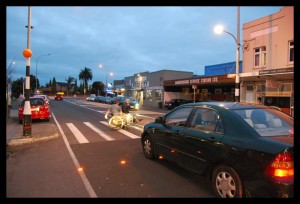 Be Counted Technology is able to offer design and build solutions for pedestrian crossing advanced warning systems, known as SAFE2WALK. The system utilises a locally produced and NZTA approved inductive powered lighting technology by 3ii, combined with the latest detection devices available in the market for triggering the lights. This is an ideal advanced warning safety solution for a non signalised crossing where there has been historical evidence of near misses or accidents recorded.