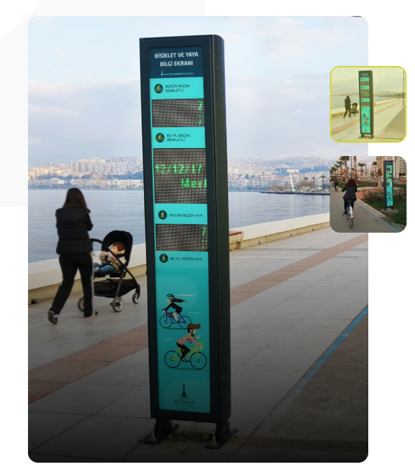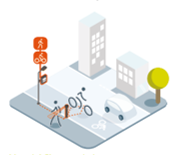 System Overview
The Eco-DISPLAY Classic+ is an eye-catching and powerful display that makes cyclists and pedestrians a more visible part of the urban landscape.
The counts registered are sent to our online software solution Eco-Visio, where they can be analyzed and shared with the public. Using the ComEth technology, the system can be connected to any Eco-Counter Sensor*. The ComEth-based system also allows for rich ITS integration options.
Benefits :
Highly customisable display
Elegant piece of street furniture
Display visible at night
Robust and vandal-resistant

Display dynamic text to cyclists and pedestrians
Composed of one or several matrix displays, the Eco-DISPLAY Classic+ displays real-time passages that are registered by the counter, with cumulative daily, monthly, or even yearly counts. It can also display scrolling or fixed texts of your choice on each side. Both sides are fully customizable (colors, display areas, scrolling behavior, etc.).
You must install Adobe Flash to view this content.

Dimensions 239 x 46 x 16 cm
Weight 110kg
Operating temperature -30 °C / +50 °C
Waterproof IP 55
Material Aluminium frame & shock-resistant polycarbonate (Lexan®)
Color Graffiti-proof and rust-proof powder coating
Do you have a question? A project?
Feel free to contact us for any information related to a product