At the edge of Innovation!
Eco-Combo is an innovative and versatile counter that can differentiate various modes of transportation (bikes, horses, motor vehicles, pedestrians, etc). The customizable system consists of sensors that utilize various technologies to detect a specific user type. Each user type detected is managed by Smart Connect, an intelligent system that sorts users by category.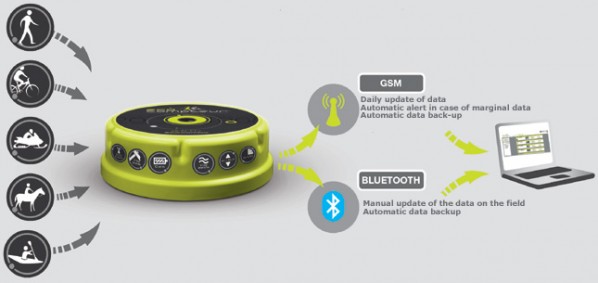 On site traffic data collection

Wireless traffic data collection can be achieved on site by Bluetooth connection using a PDA or Laptop device. The new Eco-Combo range of loggers and sensors makes traffic data collection easy and discreet.
The device is easily installed in a conventional manhole or specially-designed unobtrusive Eco urban chamber, and there is no need to open the manhole to collect the data. Data is quickly retrieved from up to 6m away using the Bluetooth connection.
For automatic data transfer via telemetry using GSM modem please refer to the Eco-Combo GSM.
Telemetry

Eco-Combo GSM features a compact integrated modem which the logger uses to connect to the GPRS data network to automatically send the daily traffic counts to the Eco-Visio platform.
Telemetry allows users to significantly reduce operating costs for remote access of data.
Maximise efficiency and minimise down time with almost real time data access. The integral Eco Alert system highlights to the user to any potential problems that may require further assistance or user intervention.

This system can be managed for your convenience by Be Counted Technology Ltd.
Data is automatically downloaded, allowing daily access to reports, statistics via Eco-Visio.
Remote, hard to access locations
Crucial sites to allow a daily monitoring of the data
Projects in a large geographic area
Projects of low operational cost
The Eco-GSM modem is completely waterproof and can be installed underground.
Data Transmission
The data is automatically transferred every day to the Eco-visio platform using the GSM network (GPRS). In the event of poor transmission or no connection to the network, data will be automatically sent the next day (up to 80 days backwards).
Additional Features
Email alert when a problem is suspected or there are significant changes in the data
Low battery warning
Data backup
Data sharing through a network of users using the Eco-Visio platform