Counting pedestrians downtown is crucial for demonstrating the impact of improvement measures and assessing a city's overall attractiveness. The data collected from reliable counting tools can be used to attract new businesses; measure the impact of large-scale events; and justify investments in improved lighting, street furniture and other beautification projects.
We offers a complete range of automatic systems that are dedicated to counting pedestrians on sidewalks and in urban pedestrian zones. Our systems are easy to install, mobile, battery-powered, reliable and accurate.
Eco-Visio
Analyse and share easily your count data
With Eco-Viso 5, your count data is accessible at any given moment and preferred data analyses are saved and automatically updated daily.
With Eco-Visio 5, your data analyses are presented in the form of a personalised dashboard. Data are visible at any given moment, saved in real time on your account.
Dashboards consist of a variety of interactive 'widgets' – dynamic data visualisation modules. Organise and personalise your dashboard as you wish with over a dozen widgets, including:
Tables with automatically-generated key figures
Interactive charts and graphs
Maps of counter location and business
Widgets are dynamic, allowing you to easily filter counting sites, time-periods, or parameters. Explore these widgets directly on your dashboard – data is automatically updated and waiting for you when you login.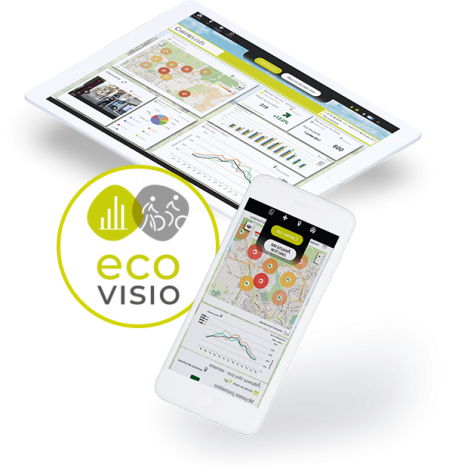 Plan
Establish before and after counts to justify new investments in infrastructure and pilot projects such as shopping streets.
Understand usage patterns of pedestrians as a function of time, infrastructure type, weather, and season.
Measure pedestrian traffic on sidewalks and at intersections.
Observe
Understand the value of commercial pedestrian traffic.
Identify and measure peak hour traffic by day-of-week and by season.
Measure the impact of events.
Evaluate trends over time to help guide future investments in infrastructure.
Communicate
Provide and communicate accurate pedestrian data to key stakeholders.
Present pedestrian frequency statistics on your website with site-specific information.
Create detailed and specific reports for retailers and administrators.
Discover our range
dedicated to downtown management
Manage your business improvement district
thanks to pedestrian flow data
With our pedestrian counters like the PYRO-evo, you can easily gauge the attractiveness of a downtown area. Count data is a key performance indicator for placemaking projects, event management, and more.
With our counting solution, you can visualise easily hourly, weekly and monthly trends. Data is also available through high-impact reports that you can use to communicate with key stakeholders or the public.
Do you have a question? A project?
Feel free to contact us for any information related to a product