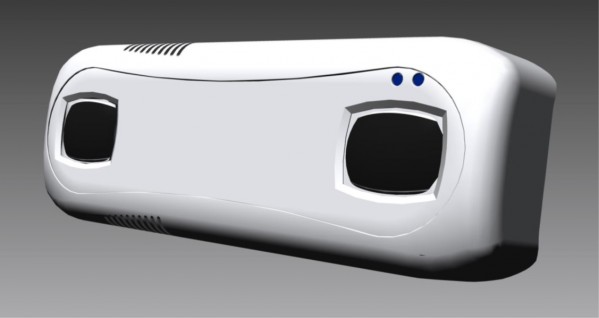 Video Sensor:
High-end processor and 3D Video Sensor dedicated to environment ranging from normal to extremely dense visitors flow,
Counting accuracy > 95%
CMOS HDR (High Dynamic Range) sensors
Management of the overlapping surfaces of a number of sensors
Sensor internal memory of 1 year more data
Time setting by NTP client protocol (Network Time Protocole RFC 1305 and / or TP server (Time Protocole RFC 868)
Aesthetic and compact sensor
Weight 1.4kg
Available protusive and embedded
No cable or screws visible
Dimension 295 x 106 x 54 mm (11 mm when embedded)
White RAL 9003 (other color possible)
Operating conditions
Mounting height: from 2,5 m to 6,5 m.
Depending on fixation height , one sensor can cover a counting width of 1,8 m to 6,1 m
Ambient light from minimal 150 lux up to 20 000+ lux (200 lux or 250 lux required for certain safety applications
IP 64
Can stands liquid splash or dust
Temperature : from -10°C to 55 °C
Counting location is flat (no more than 15% degrees inclination)
Sensor fixed on a flat surface (no more than 5 degrees inclination
Electrical Power
POE+ (IEE standard 802.3 at)
Maximum 100 meter of cable category 5 SFTP: AWG 23
Power consumption : 20 Watts
Connectivity
ethernet 10/100 base T
Real time data management remote server
Count data files by TCP-IP
Setting & Maintenance
through Wifi norm IEEE 802.11b/g
Operation status : 2 status LED
Contrary to most Video-type systems, the performance of the Quantium never deteriorates with shadows, sudden changes in ambient luminosity or particulalry strong lights (direct sun rays)
FGPA processor Computing Power 1000 times higher than DSP calculators fitted on common sensors. It allows a continuous analysis of the video flow on each point of the picture.
Exceptional accuracy with 3D Video Technology allowing classification by slices of 10 cm of the height of the persons. Allows exceptional performance also with dense flow of visitors.
Real detection and electronic « signature » allows smart monotoring of overlaps for those wide detection zone covered by more than two or more Quantium.