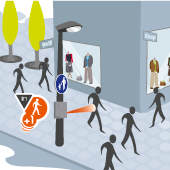 System Overview

The PYRO-Box is an extremely sophisticated and versatile person counting system that is suitable to many applications. The PYRO-Box can count both cyclists and pedestrians in urban and trail environments and can be used for both temporary and permanent installations. Using a PYRO sensor with its passive-infrared , pyroelectric technology and a high-precision lens , the PYRO-Box counts people passing within the range of the sensor by detecting their body temperature. Due to its well-engineered sensor and innovative ORION algorithm, the PYRO-Box can simultaneously detect two people walking in a slightly staggered formation. The PYRO-Box is easily moved to various counting locations and the sensor is self-calibrating making for a simple installation.
Applications
Benefits
Turn-key solution
Measures the direction of travel
Seamless data transmission to our software
Easy installation on any post
Battery operated – 10-year battery life
Works in all weather conditions
Create a Network of Counting Sites
With a network of counters, it is possible to determine pedestrian volumes through an entire business district, city centre or neighbourhood.
Count on Any Type of Street
The PYRO-Box is available in a variety of ranges, making it possible to monitor pedestrian volumes on paths, sidewalks of any width, and even wide pedestrian streets. The PYRO-Box is available in both one-sided and two-sided configurations.
Monitor Pedestrians and Cyclists
The PYRO-Box is a multi-purpose counting system. It is a perfect solution for counting pedestrians and cyclists on multi-user paths. The sensor monitors both pedestrians and cyclists by measuring the heat emitted by the user. The system maintains a high level of accuracy when counting cyclists travelling at high speeds.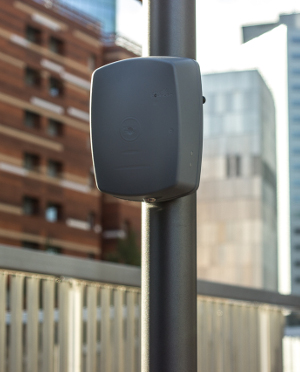 Dimensions: 195 x 110 x 275 mm
Weight: 2.7 kg
Operating temperature: -40c / +55c
Waterproof: IP 66
Material: Polyamide (30% glass fibre reinforced)
Colour: Grey (RAL 7045) - others may be available on reuest
Range: Up to 30m
3D image of the PYRO-Box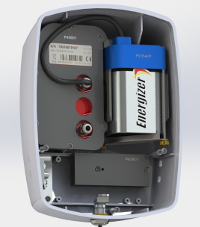 Installation Example