AN INNOVATIVE MOBILE SOLUTION



Out-of-sight, portable, with a one-year battery life, and 95% accuracy rate, Instant Counting is revolutionizing indoor counting as the ideal choice for:







No installation required. Lay it on the ground and start counting!
Highly accurate, even in heavy traffic.
Width from 1 to 8 meters
Up to 90 Instant Counting mats per installation.
Wireless data transmission.
Thickness < 5 mm (0.2 in) – disappears under a carpet or a doormat.
Withstands being overrun by maintenance vehicles (3 tons).
CONFERENCES AND SHOWS
Instant Counting is flexible and adaptable, making it the appropriate couting method for a variety of events. It is possible to use up to 90 mats per event. Easy setup, take-down and real-time supervision. Available for sale or rental. Event assistance and supervision are also available.
Improve overall event management.
Be familiar with fluctuations in specific zones.
Evaluate and compare flow tendencies by path.
Better analyse performance.
ON THE CUTTING EDGE OF INNOVATION
HARDWARE
650 touch-sensitive contact points per square meter.
Intelligent counting algorithms (Feet Shuffling, Crowd Mode, etc.) able to count all visitors.
Traffic direction recognition.
No calibration required.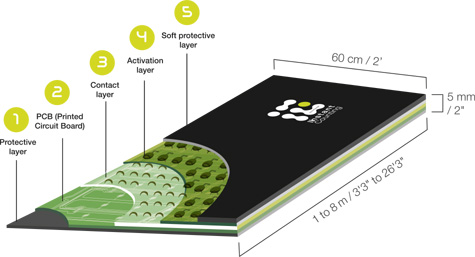 Real Time Monitoring of the number of people in a room.
Immediate traffic statistics - updated every 3 minutes - analysis in 15 minute intervals.
Identification of potential malfunctions.
Density / Traffic flow direction per zone.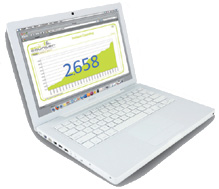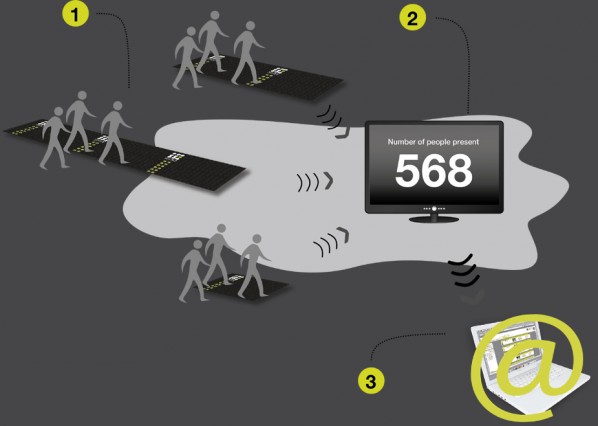 1
- The Instant Counting mats are connected to a wireless network. Up to 90 mats can be interconnected.
2
- Dedicated software, "Real Time Supervisor", displays data and allows the system to be monitored in real-time.
3
- The data is sent to the online platform Eco-Visio, for detailed analysis and automatic reports.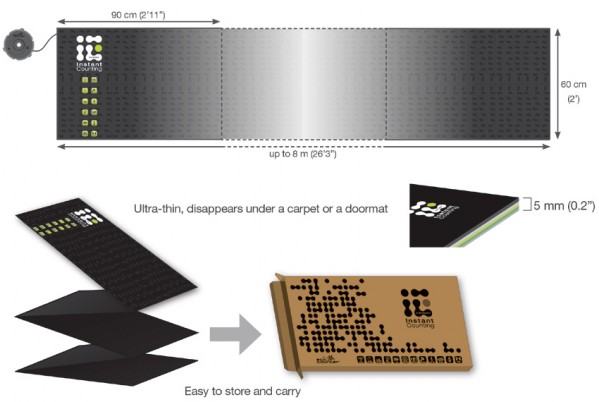 INSTANT COUNTING : Simply place it on the floor, and start counting!